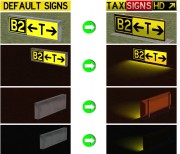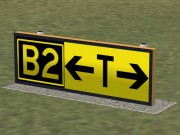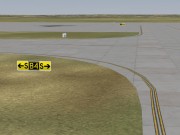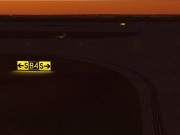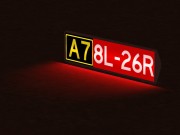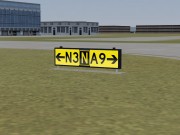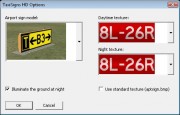 TaxiSigns HD
Version 1.02

TaxiSigns HD adds great looking taxiway signs to Microsoft Flight Simulator X, Flight Simulator 9 and Prepar3D. It replaces default taxiway signs with detailed 3D models, offers several high resolution taxiway sign textures and adds stunning night lighting effects.
There is no need for a complicated setup or a long conversion of your airports. After you install TaxiSigns HD and launch Flight Simulator, all taxiway signs will be immediately replaced with new ones. You can choose among several 3D models and textures in options - and these changes become effective immediately.
Enjoy amazingly realistic taxiway signs both during day and night! During the day, you will see realistic looking, properly shaded 3D signs. At night, our taxiway signs illuminate the ground in front of them - just like in the real life. And all these improvements come without reducing your frame rate!
You can choose one of the supplied high resolution textures for the text. If you are using a replacement taxiway sign texture that you like, you can also continue using it with our product.
TaxiSigns HD is fully compatible with both DirectX 9 and DirectX 10 modes of FSX, and also with FS9 and Prepar3D (versions 1.0-2.2). Get it now, and enjoy more realistic airports in Flight Simulator!
Note: TaxiSigns HD replaces stock taxiway signs. Some add-on airports come with custom designed signs. These will not be affected by TaxiSigns HD.
Product Features
Great looking 3D taxiway signs instead of default "boxes".

Crystal clear text thanks to new high resolution textures.

Choice of several 3D taxiway sign models. Also choose among several high resolution textures for the text.

Taxiway signs illuminate the ground in front of them at night.

Improves all airports at once (except those with custom modeled signs).

Supports FSX, FS9 and Prepar3D (v1.0-2.2)

Low FPS impact.

Easy and quick setup. No need to scan all scenery files, and no need to convert every individual airport.

Get the free demo now!
You can download TaxiSigns HD and try it out for free. The free demo version is limited to 10 minutes.
Buy TaxiSigns HD now!
You can purchase the product using the Flight1 wrapper, or by buying a registration key on SWREG or at selected online stores. When you buy the product with the Flight1 wrapper, you get an instant product activation and a 30-day money back guarantee. To purchase, please click on the links on the right side of this page.
Buy TaxiSigns HD, Airport Wizard and Contrails Pro for $29.90 instead of $44.85 - 3 great products for the price of 2! (Flight1 wrapper)
---
Copyright © 2008-2013 FlightSimTools.com